У
filinа обсуждаем предполагаемую депрессивность этой фотографии, с подписью, допустим, "Москва, 1984 г.":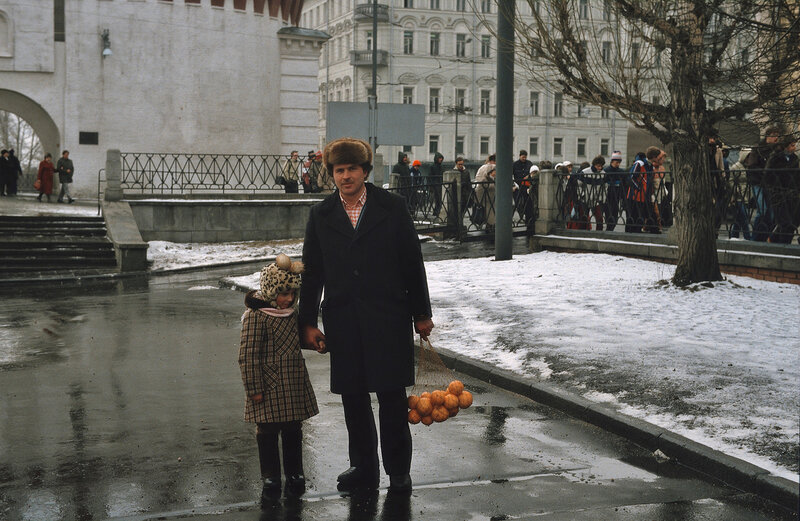 В связи с этим надо отметить, что сумка с апельсинами является совершенно универсальным визуально-кинематографическим символом. У Полянского Квартиросъемщик рассыпает апельсины в парижской больнице; то же самое происходит через много лет с героем Джонни Деппа в Девятых Вратах, и они скачут по деревянной лестнице. У Копполы дона Корлеоне расстреливают из автомата в момент покупки апельсинов на улице в Нью-Йорке, плюс еще десять тысяч случаев. Возьмем Себастьяна Найта:


I sat down on a blue bench under a great eucalyptus, its bark half stripped away, as seems to be always the case with this sort of tree. Then I tried to see the pink house and the tree and the whole complexion of the place as my mother had seen it. I regretted not knowing the exact window of her room. Judging by the villa's name, I felt sure that there had been before her eyes that same bed of purple pansies. Gradually I worked myself into such a state that for a moment the pink and green seemed to shimmer and float as if seen through a veil of mist.My mother, a dim slight figure in a large hat, went slowly up the steps which seemed to dissolve into water. A terrific thump made me regain consciousness. An orange had rolled down out of the paper bag on my lap. I picked it up and left the garden.

Таким образом, антисоветская критика этой фотографии должна состоять в первую очередь в том, что она необоснованно постулирует принадлежность Москвы к европейской цивилизации.