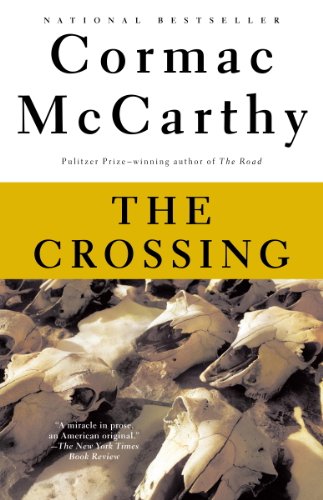 Дочитал The Crossing.

У Маккарти книги похожи на компьютерные игры -- вообще-то очень долго и довольно нудно, но атмосферность не дает оторваться. Есть и технические глюки - в самых важных местах все переходят на испанский. У меня видеокарта испанский не поддерживает, поэтому я все вижу квадратиками и т.д.



Billy cut the rope and laid the knife by and looped the bosal. Boyd put the last corner of the taco in his mouth and sat chewing.
What do you reckon is in these tacos? he said.
Cats.
Cats?
Sure. You see how the dog was lookin at you?
They aint done it, said Boyd.
You see any cats in the street?
It's too hot for cats in the street.
You see any in the shade?
There could be some laid up in the shade somewheres.
How many cats have you seen anywheres?
You wouldnt eat a cat, Boyd said. Even to get to watch me eat one.
I might.
No you wouldnt.
I would if I was hungry enough.
You aint that hungry.
I was pretty hungry. Wasnt you?
Yeah. I aint now. We aint eat no cats have we?
No.
Would you know it if we had?
Yeah. You would too. I thought you wanted to go over in the alameda.
I'm waitin on you.
Lizards now, Billy said. You caint tell them from chicken hardly.
Shit, said Boyd.