Пересматривал, чтобы показать старшенькому, заодно почитал википедию. Оказывается, искусствоведение там такое же:
wiki
-- In his essay "Rashomon", Tadao Sato suggests that the film (unusually) uses sunlight to symbolize evil and sin in the film, arguing that the wife gives in to the bandit's desires when she sees the sun. However, Professor Keiko I. McDonald opposes Sato's idea in her essay "The Dialectic of Light and Darkness in Kurosawa's Rashomon". McDonald says the film conventionally uses light to symbolize "good" or "reason" and darkness to symbolize "bad" or "impulse". She interprets the scene mentioned by Sato differently, pointing out that the wife gives herself to the bandit when the sun slowly fades out.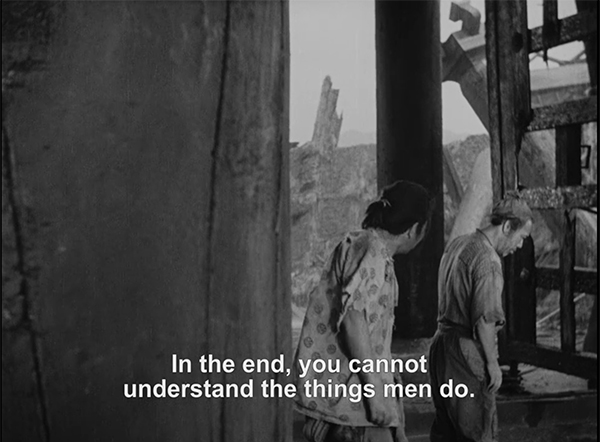 P.S. несомненно, этот виктим-блейминговый фильм оскорбителен для женщин.